It's been a long time since we've all been able to just stand around, eat In-N-Out burgers, and talk shop in person. The joy of being able to do that again was palpable as about 300 of us gathered for Cranky Dorkfest earlier today. For those who couldn't make it, you missed a great time. I don't say that to rub it in; I just hope it'll make you want to come next year.
Even though it started at 11am, I showed up about half an hour early to find dozens of people already gathered. The marine layer had nearly burnt off by this point, and the ocean breeze made the weather just about perfect.
For the first hour, several of us spent time handing out raffle tickets as more and more people began to show up. The crowd was big enough that you could see people across the street at In-N-Out starting to stare, wondering just what was going on.
LAWA CEO Justin Erbacci came by and handed out challenge coins.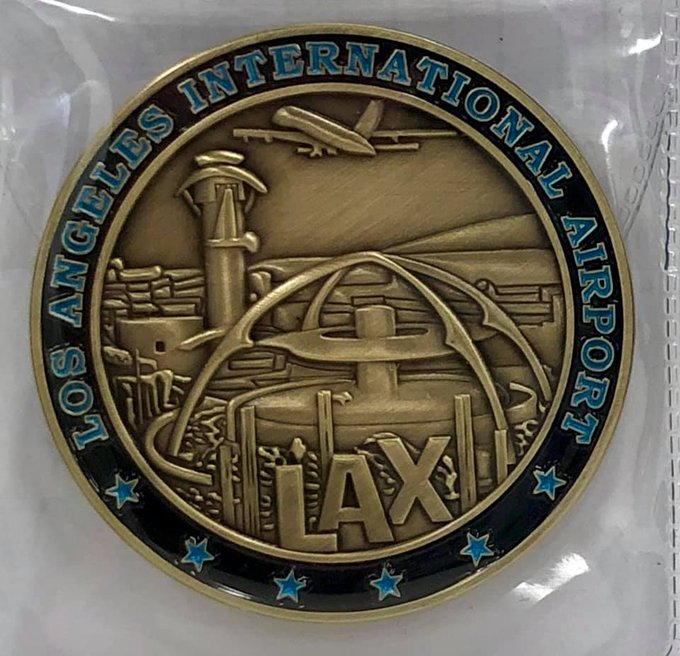 LAWA was also kind enough to bring me a bullhorn since my voice alone doesn't carry far enough when 300 people are there. Though frankly, even the bullhorn wasn't enough for such a crowd.
At noon, it was raffle time, and the airlines all really stepped up this year. Thank you to everyone at all the airlines who came up with these ideas. The top Avgeek items had to be:
United: A very rare model of the Boom supersonic aircraft in United livery which wasn't brought to the event but will look something like this:
Southwest: A beautiful 727 model in the desert gold livery
Southwest: A bag full of old plastic boarding cards which was definitely a huge hit
Delta: A Northwest DC-10 model in the final livery and some killer Delta socks
Frontier: A whole bunch of safety cards from the now-retired A319 (which you can also see above)
There was also a Delta A350, a Boeing 787-10, and this nice looking Spirit A320 model.
This wasn't all. We had a whole bunch of free tickets to hand out from Alaska, JetBlue, Spirit, and Avelo along with a $100 gift card from Delta.
Flightradar24 donated some subscriptions — a special thank you to Ian from Flightradar24 and Seth Miller from PaxEx.aero for helping run the raffle — and Jon Ostrower from The Air Current donated one as well. The Flight Path Museum threw in a complimentary annual membership.
Oh, and did I mention SpaceX showed up? They gave some $50 gift cards to their swag store. We tried to figure out how many of those we'd need for a flight to space, but we came up a bit short.
Did I mention there were burgers?
By now, you're probably wondering if we even saw any airplanes. We sure did. The highlight was hands down the Lufthansa 747-8 in the retro livery.
There was also a bittersweet moment, at least for me, when the Emirates A380 came in. Why was it bittersweet? That's the only A380 arriving at LAX during the daylight these days — China Southern still has a twice weekly arrival at night — a far cry from the regular parade of A380s we saw just two years ago.
This certainly wasn't all we saw. There was a mix of 787s, 777s, and A350s from Aeroflot, Air China, ANA, Asiana, British Airways, China Airlines, JAL, KLM, Korean, LOT, Qatar, and SAS along with all the usual domestic operators.
If you want to see more, you can follow #dorkfest on Twitter which was actually trending in California during the event.
In the end, I stayed far later than the official 1pm end of the event. Some people headed off to the SpotLAX2021 event that evening, others just went to grab beers with friends, and some headed straight to LAX to fly back home. I think everyone who attended will agree, it was just a really fun day.